A Night to Fight Childhood Cancer, Presented by Northwestern Mutual
UCLA Pauley Pavilion
301 Westwood Plaza, Los Angeles, CA 90095, USA
This event has already passed by. Sorry.
Event Description
An inaugural gala celebrating courageous children and their families fighting the daily battle, and the impactful work of charities and hospitals who build hope and community awareness.
BENEFITING OUR PARTNERS:

Alex's Lemonade Stand Foundation (ALSF) emerged from the front yard lemonade stand of cancer patient Alexandra "Alex" Scott (1996-2004). In 2000, 4-year-old Alex announced that she wanted to hold a lemonade stand to raise money to help find a cure for all children with cancer. Since Alex held that first stand, the Foundation bearing her name has evolved into a national fundraising movement, complete with thousands of supporters across the country carrying on her legacy of hope. To date, Alex's Lemonade Stand Foundation, a registered 501(c)3 charity, has raised more than $100 million toward fulfilling Alex's dream of finding a cure, funding over 475 pediatric cancer research projects nationally.
Mattel Children's Hospital UCLA ranks among the world's elite institutions for pediatric research, teaching and care. Serving more than 6,000 inpatients and 100,000 outpatients annually, Mattel Children's Hospital UCLA offers a full spectrum of primary and specialized medical care for infants, children and adolescents. Mattel Children's Hospital UCLA is a vital part of the new Ronald Reagan UCLA Medical Center which continues to be ranked as "Best in the West" by U.S.News & World Report's annual survey of America's hospitals.
GameChanger Charity is a charitable organization that leverages technology and innovation to create revenue-generating business operations with proceeds used to help children and families suffering from cancer. Founded in 2007, GameChanger was started by entrepreneur Jim Carol after his son Taylor survived a 5-year battle with Leukemia at age 11. The charity provides direct support services to families battling cancer, helps pays the bills for families in need of financial relief and also delivers video game gift packages to children in hospitals.
ENTERTAINMENT & APPEARANCES BY:
Peter Vidmar -
Olympic Gold Medalist & Motivational Speaker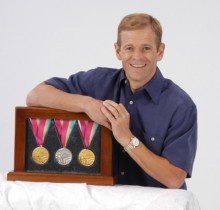 Mark Schiff - Comedian & Voice Actor

RESONANCE A CAPELLA

PRESENTED BY:
OUR EVENT'S CORPORATE PARTNERS:

For ticketing or sponsorship inquiries, please contact Adam Baldwin at 213-243-7114 or adam.baldwin@nm.com
Thursday, June 4th, 2015
6:00 pm
–
10:00 pm